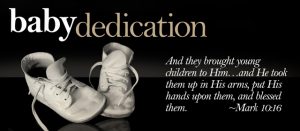 We do not baptize children at Christ Apostolic Church until when      they are at the age of understanding their choice of giving their life    to Christ   and living to serve Him as a true disciple. However, we      do have Baby dedications. Child dedications at CACSOPP is a joyful    recognition by everyone that every child is a gift from God. Parents    have a responsibility to develop that gift – to mold and shape, to      shepherd and nurture – this precious life. Dedication is an opportunity for you to publicly commit yourselves before God, family, and friends to raise your child in the discipline and instruction of the Lord. Please contact The Pastor for such events for your family.
——————————————————————————————————————————-
About Water Baptism 

By Immersion
Baptism is an important step of obedience to the righteousness of God and it shows others we have personally trusted Jesus for our salvation and this is a sign of our full commitment to Christ. Jesus was baptized when He was on the earth, and we do this to repent from all sins and to start a new life in Christ. When Christians are baptized, they are submerged under water to identify with the death and burial of Jesus and raised out of the water to identify with His resurrection. We believe that water baptism is a public declaration of three important things: you are a follower of Jesus Christ, you are beginning a changed life in Christ, and you are part of a new family.
​​​​​​​
Register to be Water Baptized
We believe that taking this next step in your relationship with Jesus is a very important step in your faith. During this time of physical distancing, your safety is our number one priority. Our team has created a safe environment for you to be water baptized. Please fill the form below to register, and we will contact you with more information on your baptism experience.